Welcome to Vanilla Sprinkles
We make amazing freshly baked cupcakes and produce locally roasted coffee. Our coffee is sourced from Baldivis Brother of Mine beans. These compliment our cupcakes.
You can order online now from a selection of our most delicious and favourite cupcakes or visit our king caravan where we sell baked treats nearly everyday at Point Peron.
In the meantime, read on to learn about Taylor & Lauren.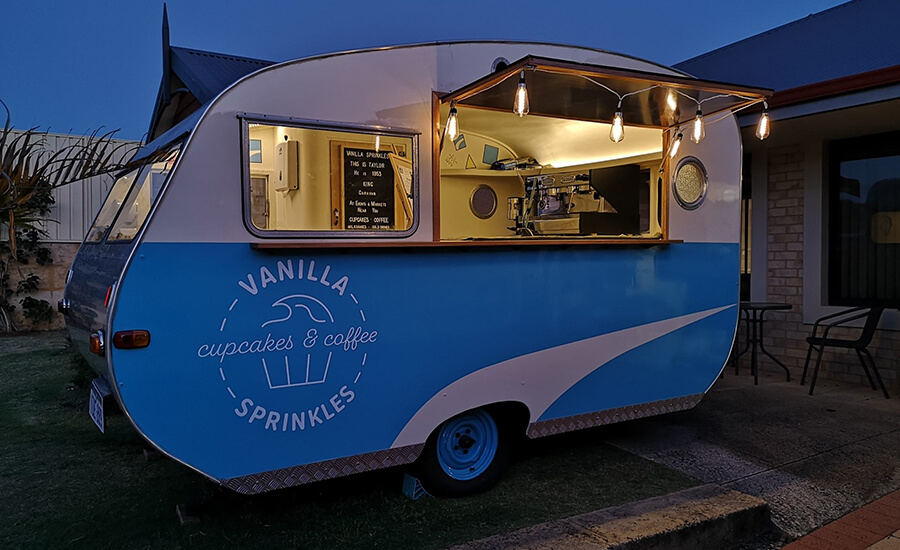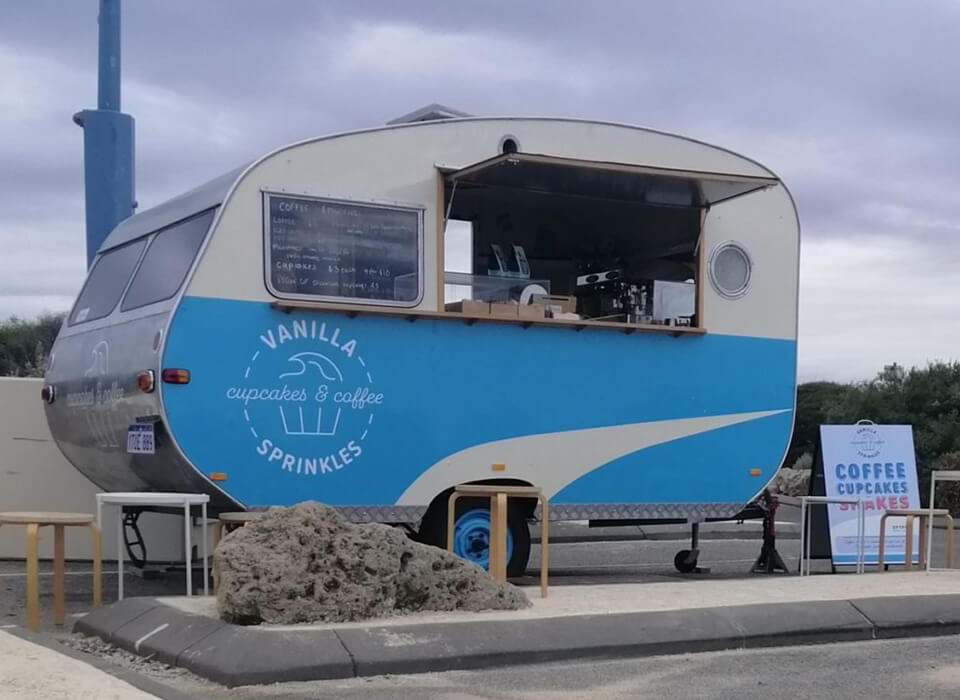 Taylor is a 1953 King Caravan set up to serve coffee, cupcakes and cold drinks.
He was found down in Bunbury, where the previous owner had him for a few years. I was told he was kept in a shed in Rowleystone for 30 years. We believe that is why he's in such good condition.
When we transformed Taylor we wanted to keep the vintage feel that he had from the beginning. All of the cupboards under the sink and the wardrobe are original and were revamped. The windows and portholes are all part of the original van too from the design in the 1950s.
Taylor is fully self-sustained with power and doesn't require a generator. He comes with a lovely gas machine inside known as Frank the Fracino, which serves up great coffee. Solar power is used to run everything else from the fridges to the milkshake machines and the grinder.
Lauren started her cupcake dream at 15 baking in her family home kitchen whilst studying during Highschool. She then followed a different path to her peers, in the hope she could follow her dreams & passion for baking!
She completed multiple courses in both hospitality and business, whilst working in a few part-time jobs to save for her dream. In 2019 she took the plunge and bought Taylor, her vintage van! Then her dream of running a baking business really came true.
She hopes to continue Vanilla Sprinkles in the future and grow into a storefront one day.